Treats: Hyperpigmentation, Sun damage, Rosacea, Redness/Pinkness, Broken capillaries, Acne spots
Bonus: Skin tightening, Permanent facial hair reduction, Skin cancer prevention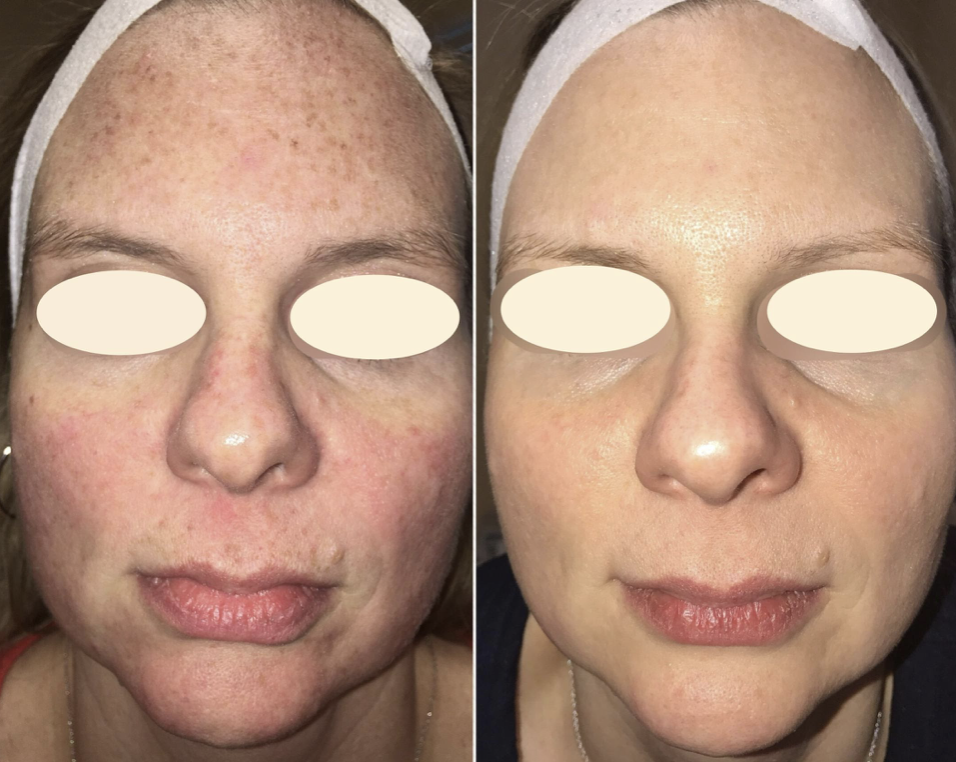 Procedure
The treatment is not recommended for people with tanned or naturally dark skin.
Our specialist applies gel on the whole treatment area and always uses cooling air to minimize patient's discomfort. Protective eye shields and/or special metal goggles should always be used to protect patient's eyes. During IPL Photofacial intense pulsed light (IPL) penetrates deep into the skin to target melanin and blood vessels in the skin. Patient feels a warm sensation and tingling.
Recovery
The recovery from IPL Photofacial treatment is usually very fast, as only insignificant damage is done to the skin. Depending on the skin type, the redness may occur after the procedure and may last for longer, but usually all the side effects disappear within a few hours.
Within the next 4 weeks following the treatment patients see the superficial pigmentation surface to the skin and peel off. Deeper brown pigmentation and redness usually fades. Depending on the skin condition 4-6 sessions of IPL Photofacial 4 weeks apart from each other are usually recommended for the best results.
Risks and Benefits
IPL Photofacial is non-ablative (no cutting), making this very effective treatment one of the safest light-based facial treatments available. However, there are a few potential risks that include: bruising, blistering, scabbing, and changes in the skin's pigmentation. Most of these issues disappear soon after treatment.
Contraindications
Sun exposure – wear plenty of sun protection 4 weeks before and after the treatment
Pregnancy and breastfeeding
History of Herpes breakouts
Surgical metal pins or plates under the skin – they may cause severe burns
Certain medications – ask the consulting technician
Antibiotics with 2 weeks
Dark skin types
Auto-immune conditions
Retin-A or acid containing products within 2 weeks
Active skin disease
Skin bruise
Before & After
We do it because
You deserve Beautiful Skin
We believe that everyone deserves to feel beautiful in their skin. Prolase Medispa provides you with support, comfort, and knowledge, with personalized attention so that you are 100% satisfied.