Looking for dramatic difference? Then Laser 360 is your best choice. Addressing most of any possible skin concerns this treatment is #1 on our clients' list.
Treats: Hyperpigmentation, Sun damage, Rosacea, Redness/Pinkness, Broken capillaries, Acne spots, Acne scars, Wrinkles, Fine lines, Enlarged pores, Lack of elasticity
This treatment combines 3 procedures in each session: IPL Photofacial, Skin Tightening with Infrared laser and Laser Skin Resurfacing with fractional laser (each procedure name should have link moving the client to the actual procedure).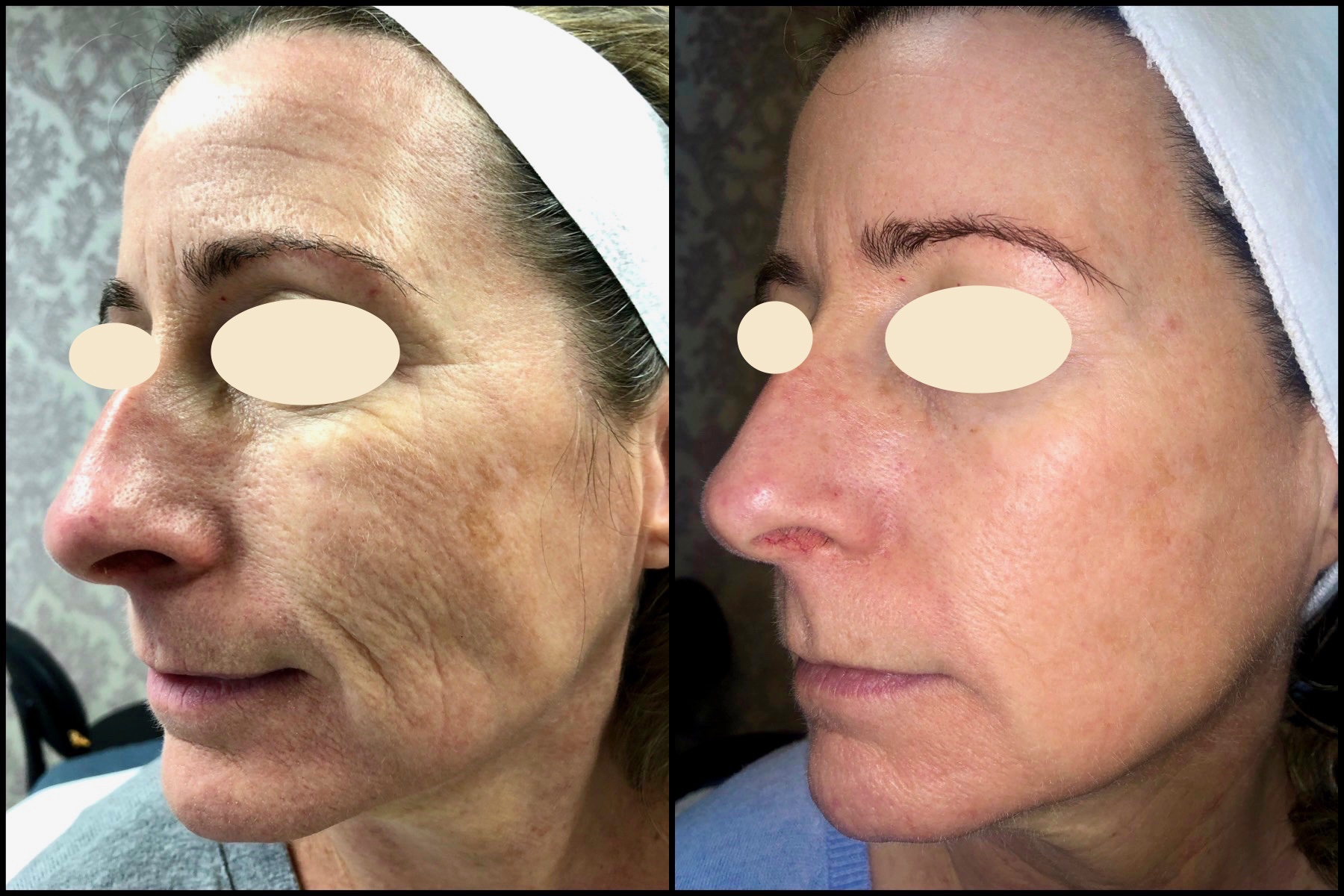 Procedure
The treatment is not recommended for people with tanned or naturally dark skin.
It is important to protect eyes from laser light, so you will be given special protective eyewear to use during the procedure.
After applying cooling gel to your skin your treatment provider will start with 2 passes of IPL Photorejuvenation on your whole face. The procedure should not be painful, however, you might be experiencing some discomfort from the very bright light.
Next comes the most relaxing and pleasant procedure – Laser Skin Tightening. Like nice warming massage, Infrared laser will be heating your dermis to stimulate production of higher levels of collagen and elastin to make your skin tighter, thicker and firmer.
Last, but not least comes Laser Skin Resurfacing. Fractional laser reaches both epidermal and dermal layers of the skin that gives it ability to both expel old and dead cells and at the same time stimulate collagen remodeling and new skin cell production. Voila – here's your fresh, tight, smooth and radiant skin!
Recovery
Following the treatment, skin will look like after a sun burn. It is normal to feel sore, and if needed pain medication like Tylenol might be taken straight after and the night of the session.
Pinkness/Redness may stay for 1-3 days following the treatment. Within the next 3-7 days upper layer of the dead skin cells will start crusting and peeling. A lot of moisturizing and sun protection is recommended during this time.
Upon healing the new skin appears smoother, tighter and younger-looking. Wrinkles, fine lines and scars get less visible with each session.
Contraindications
Sun exposure within a month
Propensity to scarring after a minor injury
Darker skin tones
Active presence of acne – can increase the risk of infection
Immune system disorders – hard recovery
Medical conditions
Antibiotics within 2 weeks
Accutane within 6 months
Recent use of retinoids, acne products and chemical peels
Before & After
We do it because
You deserve Beautiful Skin
We believe that everyone deserves to feel beautiful in their skin. Prolase Medispa provides you with support, comfort, and knowledge, with personalized attention so that you are 100% satisfied.