Microneedling
Microneedling therapy uses a hand-controlled high-speed device with tiny, shallow needles to puncture your outer layer of skin to create a "controlled injury", stimulate collagen and elastin production and initiate rejuvenation process.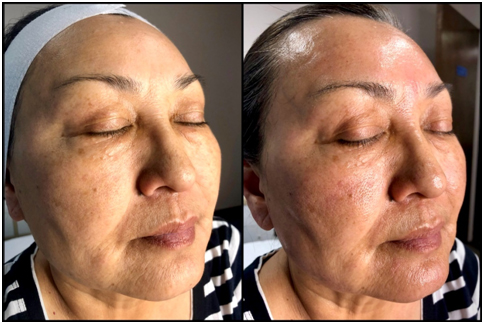 Treats
Wrinkles
Loss of elasticity
Hyperpigmentation
Redness
Acne Scars
Enlarged pores
Stretch Marks
Procedure
Before the procedure your provider will apply special numbing topical to avoid discomfort during the treatment. To target specific skin issues at ProlaseMedispa we use special treatment serums that are applied during the procedure: Hyaluronic Acid, Scar Treatment, Phyto-corrective or Vitamin C. After the treatment is complete, we will apply calming bio-cellulose mask for about 10 minutes to address initial irritation.
Candidates
The procedure is effective and well tolerated by the clients of all skin types, and usually specifically recommended for those, who for some reason cannot receive laser skin rejuvenation treatments.
Microneedling can be combined with other acne scar treatments like chemical peels, microdermabrasion, Photofacial and fractional resurfacing.
Recovery
At first, your skin will appear slightly red and inflamed — similar to a sunburn, but will return to normal in a couple of days.
The natural growth of collagen will not happen instantly; it takes place over weeks and months.
This treatment is not designed to be an "instant fix," but is intended to improve the health of your skin in the long term.
Contraindications
Microneedling is not recommended if you have any of the following skin conditions affecting the area you wish to treat:
Active skin infections
Chronic skin disorders
Blood clotting problems
Poor healing
Skin malignancies
Eczema
Rosacea
Psoriasis
Pregnancy
Keloid scarring
Severe solar keratosis
Raised moles or warts
Herpes outbreaks or any other skin inflammation
Area of sunburn, open cuts or other sore and tender areas
We also recommend to avoid direct sun-exposure and tanning beds for at least a week after a Microneedling session and to always apply good sunscreen before going out.
Risks and Aftercare
Microneedling side effects are very rare if the treatment is done properly. Microneedling is generally well tolerated, but erythema may be seen after treatment, lasting for 2-3 days.
Skin may also feel warm, tight and itchy for a short while, this normally resolves in 12 – 48 hours.
Photoprotection is advised for a week and local antibiotic creams may be prescribed. The pricking channels close within 60 to 90 minutes and therefore infections are unlikely. At ProlaseMedispa we do not recommend touching the skin in the treatment area for 24 hours post the treatment.
Before & After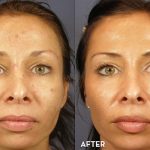 We do it because
You deserve Beautiful Skin
We believe that everyone deserves to feel beautiful in their skin. Prolase Medispa provides you with support, comfort, and knowledge, with personalized attention so that you are 100% satisfied.