VI Peel®
is a gentle yet powerful medical-grade chemical peel
for the treatment of acne and acne scarring, fine lines
and wrinkles, age and sun spots, hyperpigmentation,
melasma, rosacea, enlarged pores, oil balancing,
and overall skin health.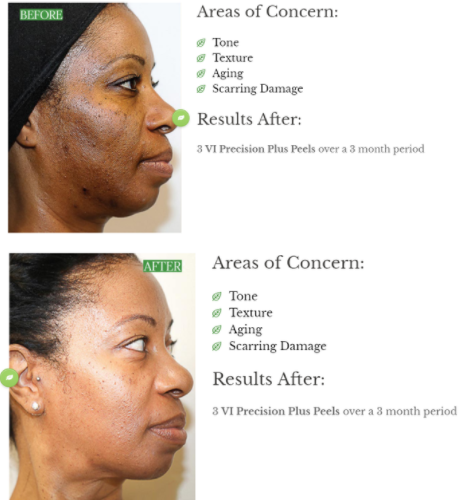 Candidates
The VI Peel is safe and effective on all skin types and colors and can be used on the face, neck chest, arms, back, and legs, and is the only peel safe for the under-eye area. It is also painless and requires minimal downtime.
Ideal candidates for a VI Peel are fair to medium in skin color and are looking to improve mild to moderate skin damage, heal acne, and reverse the signs of early aging.
This treatment may cause hyperpigmentation on those with darker skin tones, so it is important to consult with a trusted practitioner to determine if you are a good candidate.
Recovery
Patients should expect the recovery period following a VI Peel to take about a week. Immediately after treatment, the face may be slightly red and mildly swollen.
These are normal and will resolve quickly. The skin will look slightly red or tan and feel tighter for the first 2 days. Sloughing of the skin typically starts on day 3 and will usually end a few days later.
The flaking skin can usually be hidden with just the use of a moisturizer. Avoid wearing make-up during the days when the skin is actively peeling. You must also avoid sun exposure during this time.
After the peeling has stopped, minimize exposure by using an SPF of 30. The final results of the peel can be seen, roughly, 4 days after the sloughing has stopped.
Risks and Benefits
The VI Peel is considered extremely safe and holds few risks. Side effects can include redness and minor swelling. On the rare occasion, hyperpigmentation or dark spots may temporarily occur. The VI Peel has several benefits over the other chemical peels on the market.
The treatment is virtually pain-free; only a slight tingling sensation is felt during the application.
VI Peel can help soften fine lines and wrinkles, reduce the appearance of age spots and freckles, lighten melasma, improve overall tone and texture of the skin, minimize the look of pores, stimulate collagen and firm the skin, treat acne and help reduce scars, and help remove precancerous skin cells.
Contraindications
Pregnancy
Breastfeeding
Immune Disorders
Phenol Allergy
Aspirin Allergy
Inflamed skin with open wounds
Isotretinoin (ACCUTANE) use in the past 6 months
Active cold sores or herpes simplex
Liver condition
Chemotherapy or radiation in the past 6 months
Before & After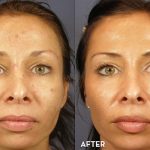 We do it because
You deserve Beautiful Skin
We believe that everyone deserves to feel beautiful in their skin. Prolase Medispa provides you with support, comfort, and knowledge, with personalized attention so that you are 100% satisfied.